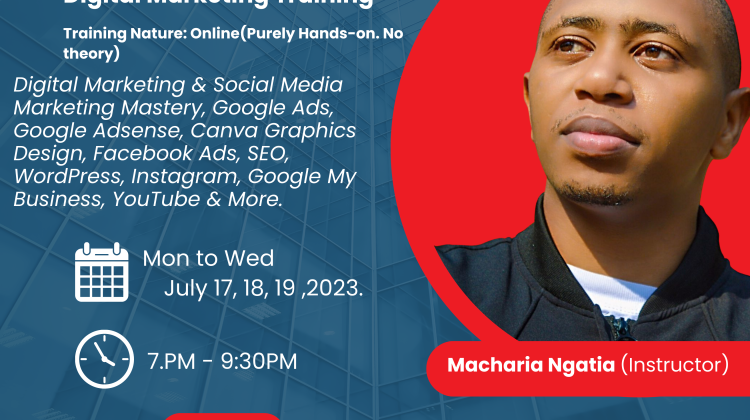 Digital Marketing Training 2023
Digital Marketing & Social Media Marketing Mastery, Google Ads, Google Adsense, Canva Graphics Design, Facebook Ads, SEO, WordPress, Instagram, Google My Business, YouTube & More.
What You'll learn in the Digital Marketing Training
Do Market Research to Find Your Audience.
Set up Your Website, Design It & Post Content on Your Blog.
Drive Traffic to Your New Website.
Create wonderful designs using Canva
Create Converting Facebook Ads.
Create Ads Using Google Ads.
Optimize Your Website & YouTube Videos with SEO (Search Engine Optimization).
Market On The Biggest 8 Social Media Platforms.
Use Google Analytics to Understand Your Audience.
Build a Landing Page & Start Sending Out Emails to Your Targeted Audience.
Requirements
No prior Knowledge is Required.
A Computer with 4GB Ram or more.
After This Course, You'll Be Able To
Grow Your Business Online
Work as a Digital Marketing Freelancer
Get Hired as a Digital Marketing Expert
Monetize Your Blog/Website and Youtube.
What You Will Master Inside This Course
Sales Psychology, Market Research, Canva Graphics Design, WordPress Website Creation, Email Marketing, Copywriting, SEO (Search Engine Optimization), Instagram Marketing, Facebook Marketing, Facebook Ads, Facebook E-commerce Ads, YouTube Marketing, Facebook Messenger Ads, Pinterest Marketing, LinkedIn Marketing, Twitter Marketing, Pinterest Marketing, Whatsapp Business Marketing, Content Marketing Machine, Google Analytics, Google My Business Marketing, and Google Ads. The Course includes Articles, Templates & Tools That'll Optimize Your Digital Marketing Journey! Most of the tools in this Course are for FREE and will give you instant results.
Who Is The Target Audience?
Website Owners Who Want to Increase Web Traffic, Conversions, and Sales
Business Owners Who Want to Use Digital Marketing to Grow their Business
Anyone Who Wants to Master Social Media Marketing
Anyone Struggling to Get Traffic and Sales
If You're New In Business & Want to Market Effectively
Anyone Looking to Start a Career in Digital Marketing Space
Anyone who Wants to Build a Brand and a Fan Base on Social Media
You who Want to Master Digital Media Marketing
Anyone Wanting to Set up a Website from Scratch
Someone with a job who wants to create their own business on the side
If You're New In Business & Want to Market Effectively.
Freelancers Looking For The Full Packet Within Digital Marketing.
Anyone Struggling to Get Website Traffic and Sales.
See You Inside The Complete Digital Marketing Guide! Love Lisper Mumbua; Head of Digital Marketing at Agency 254.
We have acquired intensive experience working with clients. Now it's time we share our knowledge with you.
Join our upcoming Digital Marketing Training for an enriching learning experience. Our program is designed to cater to your busy schedule, offering flexibility through an online evening class. The class spans 3 days, ensuring comprehensive coverage of essential digital marketing concepts.
The next session is scheduled to commence on Monday, July 17th, 2023 and end on Wednesday, July 19th, 2023.
To enrol in this course, the investment required is ksh 5,700 only for online classes. For those residing outside Kenya, the fee is USD 57. We provide multiple payment options for your convenience, including Mpesa Paybill: 880100, Acc no. 5924140011, Bank Transfer, Cheque Deposit, or PayPal.
Take a step towards enhancing your digital marketing skills today!
Training Duration: 3 days.
Training Nature: Online(Purely Hands-on. No theory)
NITA-approved certificates will be awarded at the end of the course.
Charges:
Online Class: Ksh 5,700.00
If you would like to gather more information about the course or wish to register, kindly fill out the form below. Our dedicated client service executives will promptly respond to your query within hours. For any immediate inquiries, you can reach us at +254718546247. Alternatively, you are welcome to visit our offices for a face-to-face consultation.
Contact Us for More Information: +254718546247/+254739197166
Email:info@agency254.com
We are proud to offer this class to professionals not only from Kenya but also from various other African countries. Our program has successfully trained individuals from Tanzania, Uganda, Rwanda, Malawi, Ethiopia, Zambia, and South Africa.